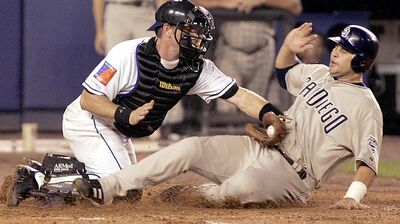 Vance Wilson (born March 17, 1973) played catcher for the Mets from 1999 to 2004.
Wilson finally began to play regularly with the Mets in late 2001, assuming the role of back-up catcher behind Mike Piazza . Used as a pinch-hitter and occasional spot-starter, Wilson's greatest value to the Mets was as a defensive replacement who could prevent runners from stealing bases (something Piazza struggled with). From 2001-2004, Wilson ranked amongst the top three National League catchers for lowest opposing stolen base percentage.
The reserve catcher appeared in a career-high 96 games for the Mets in 2003, notching career-highs of 8 home runs and 39 R.B.I.'s. However, Wilson was hampered by injuries towards the end of the 2004 season, and the Mets dealt him to the Detroit Tigers on January 5, 2005.