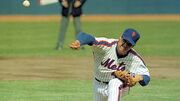 Tom Seaver (born November 17, 1944), played pitcher with the Mets from 1967 to 1977 and also in 1983.
In 1966, he signed a contract with the Atlanta Braves, who had drafted him in the first round of the secondary June draft (20th overall). However, the contract was voided by Baseball Commissioner (at the time) William Eckert because his college team had played two exhibition games (although Seaver hadn't played). Seaver intended, then, to finish the college season, but because he had signed a pro contract, the NCAA ruled him ineligible. After Seaver's father complained to Eckert about the unfairness of the situation, and threatened with a lawsuit, Eckert ruled that other teams could match the Braves' offer. The Mets were subsequently awarded his signing rights in a lottery drawing among the three teams (the Philidelphia Phillies and the Cleveland Indians being the two others) that were willing to match the Braves' terms.
Seaver made his MLB debut on April 13th. That year he went on to win 16 games for the last-place Mets, with 18 complete games, 170 strikeouts, and a 2.76 ERA, all Mets records to that point, and was named the National League Rookie of the Year. He was also named to the 1967 All-Star Game, and got the save by pitching a scoreless 15th inning.
In 1968, he won 16 games again, and recorded over 200 strikeouts for the first of nine consecutive seasons, but the Mets moved up only one spot in the standings, to ninth.
In 1969, Seaver and the Mets won their first World Series championship. Seaver won a league-high 25 games and his first National League Cy Young Award. He also finished runner-up for the League's Most Valuable Player Award. On July 9 of that year, before a crowd of over 59,000, Seaver threw
8 1⁄3
perfect innings against the division-leading Chicago Cubs. Then, rookie backup outfielder Jimmy Qualls lined a clean single to left field, breaking up Seaver's perfect game. At the end of the year, Seaver won
Sports Illustrated
magazine's "Sportsman of the year" award.
On April 22, 1970, Seaver set a major league record by striking out the final 10 batters of the game in a 2-1 victory over the San Diego Padres. Al Ferrara, who had homered in the second inning for the Padres' run, was the final strikeout victim of the game. In addition to his 10 consecutive strikeouts, Seaver tied a major league record with 19 strikeouts in a nine-inning game. By mid-August of 1970, Seaver's record stood at 17-6 and he seemed well on his way to a second consecutive 20-victory season. But he only won one of his last ten starts, including four on short rest, to finish 18-12. Nonetheless, Seaver led the National League in both ERA and strikeouts.
Seaver's 1971 season was arguably his finest year, when he led the league in ERA (1.76) and strikeouts (289 in 286 innings) while going 20-10. However, he finished second in the Cy Young balloting. Seaver himself has said that 1971 was his best season.
During his tenure with the Mets, Seaver made 108 starts in which he pitched 9 or more innings and allowed 1 run or less. His record in those starts is 93 - 3 with 12 no-decisions. In seven of the 12 no-decisions, he pitched 10 or more innings. In the 12 no-decisions, he pitched a total of 117 innings, allowing 56 hits and 5 earned runs, compiling a 0.38 ERA.