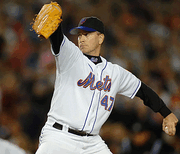 Tom Glavine, (born March 25, 1966) played pitcher for the Mets from 2003 to 2007.
In 2003, much to the dismay of many Atlanta Braves fans, Glavine left Atlanta to play for the Mets, signing a four-year, $42.5 million deal. Glavine's performance had slumped in the second half of 2002 and he was ineffective in his two postseason starts, so Atlanta refused to guarantee a third year on his contract. Glavine's first year as a Met was poor. For the first time since 1988, he failed to win 10 games, also posting his first losing record in that span, a dismal 9–14.
Glavine began 2004 well, highlighted by a May 23 one-hit shutout of the Colorado Rockies and selection to the National League All-Star team. However, he struggled again during a second half marred by losing front teeth in a car accident while riding in a taxicab. He went on to post a slightly better record, though still a losing one, going 11–14.
He started off 2005 slowly, but rebounded after advice from pitching coach Rick Peterson, who encouraged Glavine to begin pitching inside to hitters more often and incorporate a curveball in his repertoire. Glavine's turnaround helped him earn National League Pitcher Of The Month in September. He finished the season with a 13–13 record and a respectable 3.53 ERA.
The Mets' faith in Glavine was rewarded when he returned to his old form during the 2006 season. He finished one victory shy of the NL lead in wins and was selected to the All-Star team. That season Tom Glavine became the first Mets left-hander in nearly 30 years to start at least thirty games in four consecutive seasons. Glavine finished the 2006 season with a fine 15–7 record and a 3.82 ERA as the Mets won the NL East, allowing him to make his first playoff appearance since leaving the Atlanta Braves.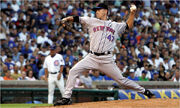 Glavine re-signed with the Mets for the 2007 season needing only 10 wins to reach 300 wins for his career. He started his fourth Opening Day game as a Met in the 2007 season.
On August 5, 2007, Glavine won his 300th game against the Chicago Cubs. In the game, he also was 1 for 2 with an R.B.I. and a walk. He pitched 6⅓ innings and won the game 8–3, bringing his lifetime record to 300–197.
In his career as a Met, Glavine went 61-56 with a 3.97 ERA. Unfortunatley, Glavine's Mets career is mainly remembered for one poor performance on the last day of the 2007 against the Florida Marlins.