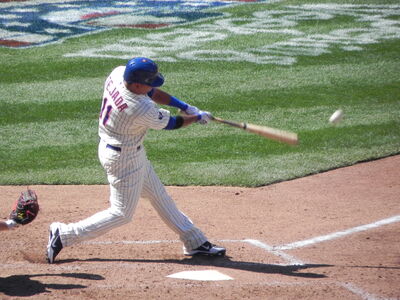 Ruben Tejada (born October 27, 1989) played shortstop for the Mets from 2010 to present.
On April 7, 2010 he made his major league debut and went 0-for-2 with a HBP in 3 AB's. On April 9, 2010 he recorded his first major league hit.
On June 4, 2010 the Mets re-called up Tejada. The Mets won the game to a score of 4–3 against the Florida Marlins.
On July 19, 2010, the Mets optioned Tejada to the Triple-A Buffalo Bisons. He hit .212 in 104 at-bats with the Mets.
He was re-called on August 7th.
On September 5, 2010 in the seventh inning Tejada hit his first major league homerun against the Chicago Cubs on the first pitch. In that game he went 3-4 with 5 R.B.I.'s.
On May 17, 2011 Tejada was called up to play second base.
However, in 2012, he will play shortstop all the time.