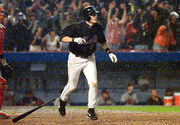 Robin Ventura (born July 14th, 1967) played third base for the Mets from 1999 to 2001.
In 1999, Ventura had his best year ever, hitting .301 with 120 RBIs and only nine errors; he also hit 32 homers. On May 20th, he became the first player ever to hit a grand slam in each game of a doubleheader. Mets fans took to chanting "MVP! MVP!" when he batted. Unfortunately, he injured his left knee some time in August; when the problem finally came to light, just before the postseason, it had worsened to torn cartilage.
Not only did he provide a game-winning, bases-loaded, two-out single in the eleventh inning against the Pirates on the final weekend of the regular season to propel the Mets back into the Wild Card chase, but every Mets fan remembers October 17th, 1999, in Game 5 of the 1999 NLCS. The series-leading Atlanta Braves were up 3-2 in the fifteenth; it was cold and raining. A bases-loaded walk forced in the tying run and brought Ventura to the plate; the active grand slam leader first worked the count to his favor then smacked a home run into right-center field. Pratt, however, didn't see the ball leave the park and ran back to first base, hoisting Ventura into the air and lugging him off the field before he could round the bases. The hit was officially scored an R.B.I. single, commonly referred to as the "Grand Slam Single".
2000 was spotty for Ventura, as he only hit .232, but had 24 homers and 84 R.B.I.'s. Ventura also hit .320 with three homers and 13 RBIs in the last two weeks of the season.
2001 was even spottier, as he hit only .237, hit 21 homers, and only 61 R.B.I.'s. Still, Ventura did provide some dazzling moments, including a two-homer performance against Atlanta on Opening Day, his fifteenth grand slam, and a classic late hot streak (.288, 11 RBIs and three homers).