R.A. Dickey (born October 29, 1974) played pitcher for the Mets from 2010 to present.
On January 5, 2010, Dickey signed with the New York Mets to a minor league contract. He was assigned to Triple-A to begin the season. While playing for the Bisons, Dickey threw a one-hitter on April 29. He gave up a single to the first batter, and then retired the next twenty-seven in a row.
On May 19, 2010, the Mets purchased Dickey's contract from the Buffalo Bisons, and made his first appearance as a Met against the Washington Nationals on the same day. In his debut for the Mets, Dickey pitched well, going a full 6 innings, giving up five hits, two earned runs, and striking out two. His next start, May 25 against the Philidelphia Phillies, he went 6 innings again, giving up 9 hits, walking 3 and striking out 7 in an 8-0 shutout for his first victory as a Met. On August 13, 2010, Dickey threw a complete game one-hit shutout of the Philadelphia Phillies. On September 8, 2010, Dickey recorded his tenth win, marking the first time that he has reached double digit wins in his major league career. He finished the 2010 season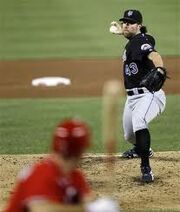 with a very strong ERA of 2.84, which was 7th best in the National League and 10th in all of baseball, and served as a rare bright spot on an otherwise disappointing season. In 2010, Dickey had a career year and recorded career highs in Games Started (26), Wins (11), Complete Games (2), Innings Pitched (174.1), Strikeouts (104), ERA (2.84), WHIP (1.19), and BAA (.252).
On January 29, 2011, Dickey agreed to a 2 year contract with the Mets. Under the agreement, Dickey will receive a 1 million dollar signing bonus, $2.25 million in 2011 and $4.25 million in 2012. In addition, the Mets have a $5 million option for 2013 with a $300,000 buyout.
In the 2011 season, Dickey followed his breakout season with another solid year posting career bests in game starts (32), Innings Pitched (208.2) and strikeouts (134). He finished the year with a record of only 8-13, despite his impressive 3.28 ERA that was 12th best in the National League.