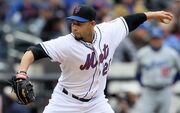 Pedro Feliciano (born August 25, 1976) played pitcher for the Mets from 2002 to 2004 and also from 2006 to 2010.
Feliciano was traded to the Mets in August of 2002 by the Cincinatti Reds. On September 4, 2002, Feliciano made his Major League debut pitching two scoreless innings of relief against the Florida Marlins. In the three years following, he had mixed success with the Mets, being recalled from and optioned to AAA several times in 2003 and 2004. Feliciano returned to the Mets for the 2006 and 2007 seasons. In 2007, he recorded his first career big-league save against the Philidelphia Phillies. In 2008 and 2009, he operated as a full-fledged member of the bullpen ensemble and the Mets' primary situational left-hander, often appearing in the seventh or eighth innings to pitch to one or two left-handed batters. In 2010, Feliciano has been also used as a set up man.
In 2008, he led the majors in games pitched, with 86. In 58 of those games, the greatest number in the majors, he recorded fewer than three outs. He also led the majors in days pitched on zero days rest, with 36.
Feliciano is second in games pitched all-time for the Mets with 459.
Pedro lead the majors in appearances in 2008, 2009, and 2010. He has had the most appearances from 2007–2010. His 344 relief appearances over those four years, is a Major League Baseball record.