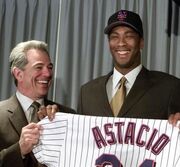 Pedro Astacio (born November 28, 1968) played pitcher for the Mets from 2002 to 2003.
Astacio was tremendous for the 2002 Mets over the first half of the season, going 11-4. But arm injuries took him over in the second half, as he went a poor 1-7 to finish his 2002 season at 12-11 with a 4.79 ERA.
Astacio was placed on the disabled list after only making 7 starts in the 2003 season. The injury knocked him out for the whole season as he went 3-2 with a 7.36 ERA.
In his Mets career, Astacio won 15 games with a 5.20 ERA in 38 starts.