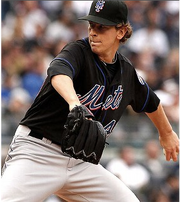 Pat Misch (born August 18, 1981) played pitcher for the Mets from 2009 to 2011.
Misch was claimed off waivers by the Mets from the San Francisco Giants on June 5, 2009, and was called up on June 22. On September 3, he achieved his first win as a starting pitcher, holding the Colorado Rockies to two hits in 6 and 2/3 innings. In his previous start, Misch became only the second pitcher in major league history to begin his careers with 12 starts in which his team lost all 12 games. On September 27, 2009, Misch threw his first complete game and first shutout against the Florida Marlins.
Misch was called up on August 14, 2010. That season, he went 0-4 with a 3.82 ERA. Even with his poor performance in the big leagues, the Buffalo Bisons (Mets AAA affiliate) gave Misch the Most Valuable Pitcher award for the 2010 season.
Misch had his contract purchased by the Mets on April 16, 2011. He was designated for assignment the following day. The Mets purchased his contract again on May 8, however, he was designated for assignment again on May 27. After the 2011 season, he elected for free agency. In 2011, he went 1-0 with a 10.29 ERA.