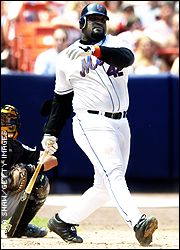 Mo Vaughn (born December 15th, 1967) played first base for the Mets from 2002 to 2003.
With the Mets, Vaughn was counted upon to be a key component in a revamped lineup. Vaughn got off to a slow start in 2002, was lampooned in local papers and on sports talk radio shows, and was clearly not in the same shape he was during his signature seasons in Boston - he weighed 275 pounds during his first season in New York. A late surge in September that saw him hit one of the most prodigious home runs in Shea Stadium history (in the middle of the "Bud" Sign on the monstrous Shea scoreboard) was one of the few highlights in a mostly disastrous season for Vaughn. In 2002, he hit .259 with 26 home runs and 72 R.B.I.'s.
He then played less than a month in 2003 before a knee injury permanently ended his career.