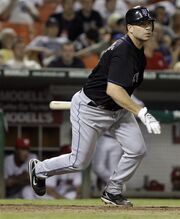 Mike DiFelice (born May 28, 1969) played catcher for the Mets from 2005 to 2007.
Mike DiFelice made his Mets debut on May 17th, 2005 coming into the game as a catcher. He is widely known to Mets fans for replacing Mike Piazza in the eigth inning on October 2nd, 2005. It was Piazza's last game as a Mets player.
Over his career with the Mets, he hit .171 with 0 home runs and 6 R.B.I.'s.
On February 5, 2009, DiFelice was named the manager of the Rookie-level Kingsport Mets in the New York Mets organization.