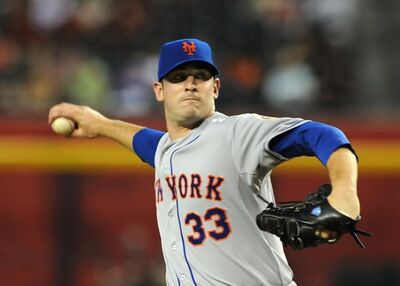 Matt Harvey (born March 27, 1989) is a pitcher for the Mets.
Harvey was drafted by the Los Angeles Angels of Anaheim in 2007, but he didn't sign and decided to attend college at the University of North Carolina.
Harvey was selected as the seventh overall pick by the New York Mets in the 2010 Major League Baseball First-Year Player Draft. Harvey is 6' 4" and weighs around 210 lbs; he bats and throws right handed.
Harvey was ranked as the Mets organization second best prospect and the 34th overall best prospect by MLB.com. He was invited to spring training by the Mets but did not make the team. He instead was promoted to the Mets Triple-A affiliate. The first half of the season, Harvey went 7-4 with a 3.39 ERA in 18 starts.
After replacements to the Mets major league rotation failed to turn in quality starts and an injury toJohan Santana, Mets general manager, Sandy Alderson, and Mets manager, Terry Collins, backtracked and decided to promote Harvey.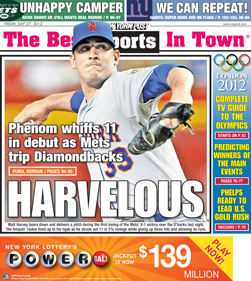 On July 26th, Harvey made his first major league start against the Arizona Diamondbacks wherein he pitched 5.1 innings gave up 3 hits, 3 walks and recorded 11 strikeouts in his first win. Harvey recorded his first Major League strikeout with a 89 mph slider on a 1-2 count against the first batter he faced, Gerrardo Parra of the Arizona Diamondbacks. He then had his first major league hit, a two-out double on a 2-1 82 mph curveball off Wade Miley in the top of the following inning. Also in his debut, Harvey set a new Mets franchise record for strikeouts in a debut (11) and became the first player in modern baseball history (since 1900) to strike out 10-or-more batters and get two hits in his major league debut. The Mets won the game, 3-1.
In his next big-league start, Harvey faced Tim Lincecum of the San Francisco Giants,