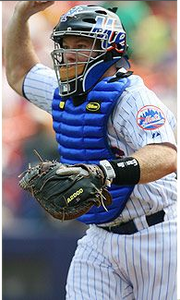 Kelly Stinnett (born February 4, 1970) played catcher for the Mets from 1994 to 1995 and also in 2006.
He made his MLB debut on on April 5, 1994, with the Mets. He went 1-4 with 2 R.B.I.'s against the Chicago Cubs.
He returned to the Mets on September 9th, 2006 against the Los Angles Dodgers, and went 1-3. He finished September with a .083 batting average, and was not included on the 2006 Mets postseason roster.