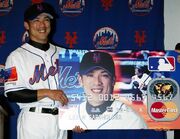 Kazuo Matsui (born October 23, 1975) played infield for the Mets from 2004 to 2006.
Based on his performance in Japan, Matsui was expected to excel defensively as a shortstop with the Mets. However, in 2004, Matsui committed many errors and misjudgments at the position. On opening day 2004, Matsui homered on the first pitch from Russ Ortiz of the Atlanta Braves leading off the game. It was Matsui's first major league home run, in his first major league at-bat. He finished the day going 3-3, with 3 R.B.I.'s, also drawing 2 walks.
With more playing time needed for Jose Reyes, Matsui was made the second baseman for 2005. For his second year in a row, he hit a home-run in his first at-bat of the season, this time against the Cincinnatti Reds pitcher Paul Wilson. By mid-2005, he was no longer an everyday player, sharing time at second base with other players. Matsui finished the season batting .255 with three home runs and 24 RBI.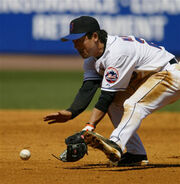 Matsui missed the first 20 days of the 2006 season on the disabled list. When he came back, on April 20th, he hit a home run in his first at bat of the season, this time an inside-the-park home run against the San Diego Padres. Matsui played poorly for the Mets in 2006 before being traded to the Colorado Rockied for Eli Marrero. In 2006 with the Mets, Matsui hit .200 (26-for-130) with 10 runs, six doubles, one home run and seven RBI.