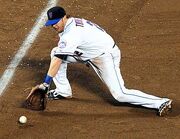 Justin Turner (born November 23, 1984) played infield for the Mets from 2010 to present.
On May 25, 2010, Turner was claimed off waivers from the Orioles and the Mets optioned him to Triple-A Buffalo. On June 16, Turner was called up to the Mets.
On April 19, 2011, the Mets called Turner up from Buffalo. Turner hit his first major league home run against the Houston Astros on May 15, 2011. A three-run home run, it capped off a 5-RBI day for Turner. On May 21st, against the New York Yankees, Turner collected an RBI in his 7th consecutive game, setting a Mets rookie record for most consecutive games with an R.B.I.. With this record and other impressive stats, Turner was named the NL Rookie of the Month for May 2011. He is the first Met to win the award since its creation in 2001.