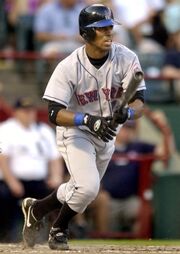 Jose Reyes (born June 11, 1983) played infield for the Mets from 2003 to 2011.
Reyes made his major league debut on June 10, 2003 against the Texas Rangers, the day before his 20th birthday, going 2-for-4 with a pair of runs in a 9–7 loss. After the game, Reyes collected the ball and sent it to his parents. Over the following weeks Reyes' impressive form continued, including a grand slam in an 8–0 victory over the Angels. When Rey Sanchez completed his month-long spell on the DL, Reyes' strong showing ensured that Sánchez had to be content with a place on the bench. Reyes' 2003 season was cut short a month early by a sprained ankle, but he still managed to compile impressive rookie numbers. In 69 games, he batted .307 with 32 RBIs and 13 stolen bases. Reyes finished 8th in voting for the 2003 NL ROY. Reyes might have won it if he played more.
Prior to the 2004 season, the Mets signed Japanese star Kazuo Matsui, whose only condition upon signing was that he got a chance to play his regular position, shortstop. As a result, Reyes was asked to learn how to play second base. However, by the end of the season Reyes had returned to his preferred position at shortstop, with Matsui moving to second base. Reyes ended a disappointing 2004 season with a batting average of .255, 14 RBIs, and 19 stolen bases in only 53 games.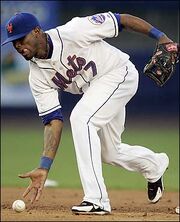 At the age of 21 in 2005, Reyes was handed the leadoff spot in the Mets' line-up in his first full season in the major leagues. Despite struggling slightly with his plate discipline – he had only 27 walks in a league-high 733 plate appearances – he finished the season with solid numbers. In 161 games he had 48 extra-base hits, 58 RBIs and 60 stolen bases. Reyes led the NL in stolen bases and led the majors in triples.
On June 21, 2006 in a 6–5 loss against the Cincinatti Reds, Reyes hit for the cycle, becoming the ninth Met in team history to do so. On August 3, 2006, Reyes signed a four-year, $23.25 million contract extension with the Mets, thereby avoiding salary arbitration. The contract includes an $11 million option for 2011 with a buy-out of $500,000 if the Mets do not pick up the option. Reyes also received a $1.5 million signing bonus. On August 15, 2006, Reyes hit three home runs in an 11–4 loss against the Philidelphia Phillies. Two days later, he became the second player in Mets history to record at least 50 stolen bases in consecutive seasons. On September 7, 2006, Reyes hit the first inside-the-park home run of his career, against the Los Angeles Dodgers. Reyes was timed at 14.81 seconds for his dash around the bases – the equivalent of running a circular 100-meter dash in about 13.5 seconds.
On July 12, 2007, Reyes hit the ninth leadoff home run of his career against the Reds, setting a new record for the franchise. In August, Reyes stole his 50th base of the year, becoming the first New York baseball player to steal 50 or more bases in three consecutive seasons. On August 22, 2007, Reyes stole his 65th, 66th, and 67th bases and broke Roger Cedeno's Mets record for the most stolen bases in a single season. August also saw Reyes tie the Mets record for stealing at least one base in four straight games. In the last month of the season, Reyes' struggles were seen to be a key component of the Mets historic late-season collapse. He batted .205 and had an on-base percentage of only .279. His struggles brought much criticism from Mets fans. Reyes finished the season with a .280 batting average, 60 extra-base hits, 12 home runs, 57 RBIs, and 78 stolen bases in 160 games.
On July 20, 2008, Reyes passed Mookie Wilson as the Mets all-time triples leader after legging out his 63rd career triple in the fourth inning of a game against the Reds. On September 10, Reyes broke the Mets all-time record for stolen bases, previously held by Wilson, with his 282nd career stolen base coming in the third inning of a game against the Washington Nationals. After stealing second to break the record, he then stole third and scored the go-ahead run. On September 23, 2008, Reyes achieved his first 200-hit season with a bases-clearing triple. He is the second Met to reach this landmark. Reyes finished the season with a batting average of .297, with 72 extra-base hits (including a majors-leading 19 triples), 68 RBIs and 56 stolen bases.
On May 3, 2009, Reyes was placed on the DL due to a calf injury. Reyes was expected to be back in early June but when rehabbing the injury he pulled himself from an extended spring training game; an MRI the following day revealed the tear, which Reyes confirmed was different than the initial injury. A September return was considered possible but he suffered yet another injury, a torn right hamstring while doing rehab work in August.
On May 25, 2010, he hit his 1000th career hit against the Phillies. On July 4, Reyes was selected to his third All-Star Game, but he was unable to play due to an injury.
On June 28 2011, in his 1,000th career game, Reyes stole his 360th base. This put him in the top 100 all-time in MLB stolen bases. Reyes was voted in as the starting shortstop for the National League in the 2011 MLB[1]All-Star Game. However, he did not participate due to a strained left hamstring. On the final day of the season, after bunting for a single in his first at bat in the first inning, Reyes asked his manager to remove him from the game, ending his season (and his Mets career) with a .337 batting average, two points ahead of Ryan Braun of the Milwaukee Brewers in the race for the NL batting title. Braun went 0–4 later in the day to finish at .332. Reyes became the first Met in franchise history to win an NL batting title.