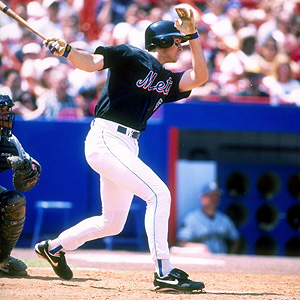 John Olerud (born August 5, 1968) played first base for the Mets from 1997 to 1999.
Olerud was traded along with cash to the Mets by the Blue Jays on December 20th, 1996 for Robert Person.
With the Mets, Olerud set team single season records for batting average (.354), on-base percentage (.447) and runs created (138) in 1998 and set their team records for most walks (125) and times on base (309) in a season in 1999. Also during his 1999 campaign, Olerud appeared on the cover of the September 6 issue of Sports Illustrated, along with fellow Mets infielders Edgardo Alfonzo, Rey Ordonez , and Robin Ventura . The magazine raised the debate as to whether the four talented defensive players comprised the best infield in Major League history.