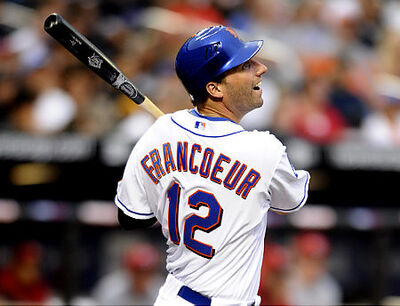 Jeff Francoeur (born January 8, 1984) played outfield for the Mets from 2009 to 2010.
On July 10, 2009 Francoeur was traded to the Mets for outfielder Ryan Church.
He made his Mets debut on July 11, 2009 and notched two RBIs in his first at bat. He finished the day going 2–4 with 2 RBI, a strikeout, and was caught stealing once. On July 20, Francoeur hit his first home run as a Met off Washington Nationals pitcher Logan Kensing during the ninth inning of that game.
Francoeur re-signed with the Mets for 2010.
After being the Mets' starting right fielder for the first half of the 2010 season, Francoeur was replaced by Ángel Pagán to make room for the return of Carlos Beltrán in the second half, marking the first time in his major league career that he has not been a starting player.
On August 31, 2010 he was traded from the Mets to the Texas Rangers for infielder Joaquín Árias.