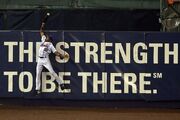 Endy Chavez (born February 7, 1978) played outfield for the Mets from 2006 to 2008.
On December 23, 2005, the New York Mets signed Chávez to a one-year, $500,000, major league deal. Chávez's speed and his modified batting style sparked a 50-point jump in his batting average with 12 stolen bases during a 2006 season in which he saw limited playing time (often as an injury replacement for regular left fielder Cliff Floyd). This, in addition to his excellent defensive skills, helped the Mets win the National League East and qualify for the 2006 baseball postseason. In the top of the sixth inning of Game 7 of the 2006 NLCS, with the game tied 1–1, Mets pitcher Oliver Perez delivered a pitch that was hammered, yet Chávez leaped over the left field wall and caught the ball with the tip of his glove to rob Cardinals third baseman Scott Rolen of a two-run home run. Chávez reeled the ball in and threw to the cutoff man, who threw to first base, doubling off Cardinals center fielder Jim Edmonds for an inning-ending double play.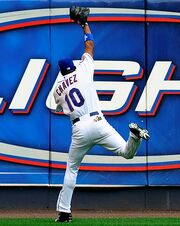 Chávez continued to contribute big hits in 2007. On April 24, 2007, in the 12th inning, Chávez made a drag bunt to drive in the winning run, giving the Mets a walk-off win against the Colorado Rockies, 2–1. The play is known as "The Bunt", and many newspapers coined the slogan "Endy Ends It", mainly because of the excitement of the game and the perfection of the drag bunt.
On September 28, the final day of the 2008 regular season, the Mets played the Florida Marlins. With an NL wildcard spot at stake for the Mets, Chávez made another terrific catch in the outfield during the top of the seventh inning, the same inning in which he entered the game as a defensive replacement. After a ball was hit hard and deep to left field by Jorge Cantu, Chávez fully extended to make the catch for the final out of the inning. A hit by Cantu would have scored one run to give the Marlins the lead and surely would have resulted in extra bases and kept the inning alive.