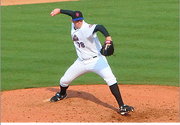 Eddie Kunz (born April 8, 1986) played pitcher for the Mets in 2008.
On August 24, 2007, the New York Mets signed Kunz after they selected him 42nd overall in the 2007 MLB Draft.
Less than a year later, on August 3, 2008, he was called up to the Major Leagues. That day, in his MLB Debut, he pitched a scoreless seventh inning against the Houston Astros. He finished 2008 with a 13.50 ERA with a strikeout.
On November 5, 2010, Kunz became a free-agent after refusing a minor league assignment.