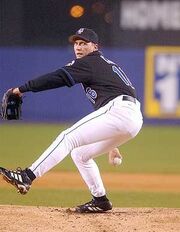 David Cone (born January 2, 1963) played pitcher for the Mets from 1987 to 1992 and also in 2003.
Prior to the 1987 season, Cone was traded to the Mets. Cone went 5–6 with a 3.71 ERA and 68 strike outs in 21 appearances (13 starts) his first season with the Mets.
Cone began the 1988 season in the bullpen, but was added to the starting rotation by the first week of May. His first start was a complete game shut out over the Atlanta Braves, as he went 9-2 with a 2.52 ERA in the first half of the season to earn his first All Star appearance. For the season, Cone went 20-3 with a 2.22 ERA to finish third in NL Cy Young Award balloting.
Cone spent over five seasons in his first stint with the New York Mets, most of the time serving as the team's co-ace while leading the National League in strikeouts in 1990 and 1991.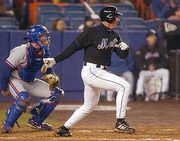 Cone tied a National League record on October 6th, 1991, in the season finale, in a 7-0, three-hit shutout against the Philidelphia Phillies. His 19 strikeouts in the game was tied for total ever recorded in a nine inning game a the time.
Cone was the lone Mets representative at the 1992 MLB All Star Game, as he went 9-4 with a 2.56 ERA at the All-Star break. But later, the Mets traded Cone to the Toronto Blue Jays.
He sat out the 2002 season, but attempted a comeback with the Mets in 2003. Cone went 1-3 in 4 starts for the Mets with a 6.50 ERA. He announced his retirement soon after his last appearance for the Mets on May 28, citing a chronic hip problem.