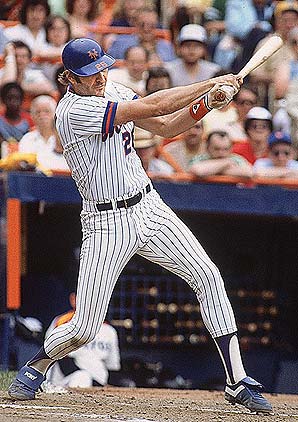 Dave Kingman (born December 21, 1948) played outfield and infield fo the Mets from 1975 to 1977 and from 1981 to 1983.
Kingman emerged as a slugger upon his arrival in New York, setting a club record with 36 home runs in 1975. However, he also scored 65 runs, the highest percentage of runs scored on homers for anyone that hit more than 30 in a season. A year later, he broke his own record with 37 homers.
Facing the Chicago Cubs on April 14, 1976, Kingman hit what is likely the longest home run of his career, and believed to be the longest in the history of the Cubs ballpark. There is a street called Kenmore Avenue that turns into Waveland Avenue behind left-center field. Kenmore is lined with houses, and the ball Kingman launched landed on the third porch roof on the east side of Kenmore, a shot estimated at 550 feet.
The best game of Kingman's Mets career occurred on June 4, 1976 when he hit three home runs against the Los Angeles Dodgers in the Mets' 11-0 victory (the first of five times Kingman accomplished this feat in his major league career).
Kingman was batting only .209 with nine home runs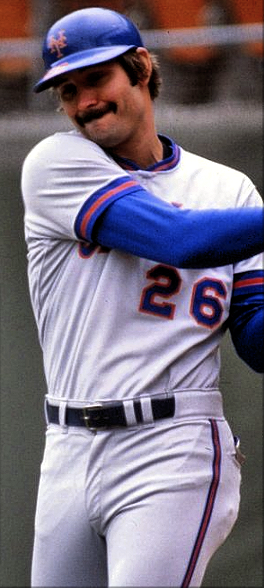 when he became one of the three players traded on June 15, 1997, when the Mets traded Kingman to the San Diego Padres.
On February 28, 1981, eager to make right with a fan base that had become disenchanted with the team, the Mets reacquired Kingman from the Cubs for Steve Henderson and cash.
Kingman primarily played first base upon his return to the Mets in 1981, and exclusively there his second season back in New York. In 1982, he tied his own Mets' single-season home run record, but also batted just .204, the lowest batting average ever recorded for a first baseman with enough plate appearances to qualify for the batting title. Leading the league in home runs that year, it is also the lowest batting average for any season's home run leader.
Even though the Mets acquired 1B Keith Hernandez during the 1983 season, Kingman remained with the team for the remainder of the 1983 season in a limited role. He was released by New York at the end of the season, and signed as a free agent with the Oakland Athletics.