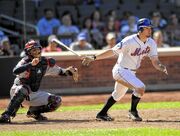 Daniel Murphy (born April 1, 1985) played infield and outfield for the Mets from 2008 to present.
On August 2, Murphy was called up to the majors. In his first major league at bat, Murphy hit a single. Later in the same game, he made a difficult catch against the left field wall, throwing out a runner to complete a double play to end the inning. As of August 9, 2008, Murphy was only the 5th Mets rookie to record 10 hits in his first 20 at-bats. Murphy hit his first home run in the bottom of the 6th inning against the Florida Marlins on August 9. He finished the 2008 season hitting .313, with 2 home runs and 17 R.B.I.'s.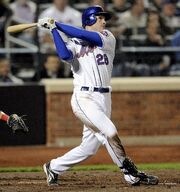 Murphy led the 2009 Mets in home runs, with 12. It is tied for the fewest home runs to lead a Mets team in a single season in franchise history.
Murphy's 2010 season was plauged with injuries. On March 30, 2010 Murphy hurt his knee. On June 2, while playing second base for the Mets' Triple-A affiliate, he suffered a "high-grade" MCL tear while trying to turn a double play. Although surgery was not needed, he was expected to miss 4–6 months, the rest of the season.
Murphy suffered a season-ending injury to his MCL on August 7, 2011 after a collision with an Atlanta Braves runner.