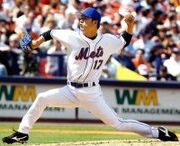 Dae-Sung Koo (born August 2, 1969) played pitcher for the Mets in 2005.
In 2005, the New York Mets signed Koo as a free agent. He pitched well as a reliever during spring training and was selected for the Mets' active roster as the season began. Despite his 35 years of age, and 12 years experience in Korea and Japan, he was considered a rookie by Major League Baseball in his first year. He made his Major League Debut on April 4th, 2005 against the Cincinnati Reds, and pitched a perfect 8th inning, in the process collecting his first big league strikeout.
Koo's most memorable moment as a Major Leaguer occurred on May 21, 2005,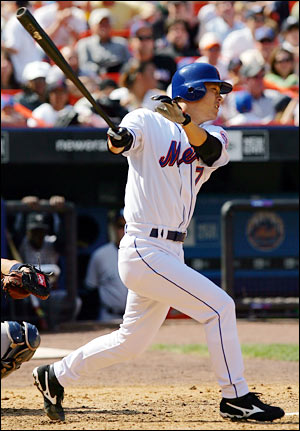 when he recorded his first major league hit, a double against the New York Yankees. This came right when announcer Tim McCarver commented on how Koo's at bat was "the biggest give-up at bat". Koo had taken two pitches and sat in his first at-bat, leading everyone to believe that he was ready to go up just to sit down again. On a 1-and-1 count, Koo crushed a deep line drive that one hopped of the wall in right-center field. Upon reaching second base, the home crowd and his teammates in the dugout cheered and chanted "KOOOO!". A slow runner with little base running experience, Koo advanced to third base on a bunt dropped by the following hitter. However, after Koo slowed down approaching third base, he re-accelerated and ran towards a vacant home plate left uncovered as Reyes was getting thrown out at first base. The Yankees' catcher promptly ran towards home in a foot race with Koo. Upon retrieving the thrown ball from first base, Posada applied the tag onto Koo's left shoulder as he slid head first towards home plate on a close play. The home plate umpire called Koo safe on the play. With that, the home crowd once again cheered and chanted his last name. His teammates enthusiastically greeted him, with celebrations ranging from his teammates brushing the dirt off his uniform to fanning him with a towel. On his reception by his teammates, Koo said that "they said a lot of things. I just couldn't understand what. I think they were saying 'Good job.'".
The 2005 season was Koo's last as a Met and in the majors as he was sold back to Japan in March of 2006.