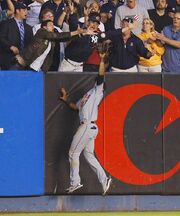 Carlos Gomez (born December 4, 1985), played outfield for the Mets in 2007.
Gomez made his major league debut on May 13, 2007 against the Milwuakee Brewers and went 2-4. On May 16, 2007, he appeared in the Mets starting lineup along with Carlos Beltran and Carlos Delgado, marking the first time in Major League history that a single team had three starters named "Carlos" in their lineup. He was nicknamed 'Little Carlos', since he was the third Carlos on the team.
He became expendable when Johan Santana became available via trade, and on January 29, 2008, he and three other players were sent to the Twins for the two time Cy Young Award winner.