Carlos Delgado (born June 25, 1972) played first base for the Mets from 2006 to 2009.
Carlos Delgado responded well as the feared cleanup hitter for the Mets, hitting 38 home runs and driving in 114 runs throughout 2006. With Delgado hitting between fellow Puerto Rican Carlos Beltran and star third baseman David Wright, the Mets had the best record in the National League in 2006. Through 2006, Delgado was the all-time leader for interleague play RBIs with 131, and second all-time in home runs with 43.
Carlos Delgado had early struggles in the 2007 season, with his batting average falling below .200 in April, but his numbers improved as the season progressed. On May 9, 2007, he hit a home run into McCovey Cove during a game against the San Francisco Giants, becoming the only visiting player to have hit three splash home runs. Delgado ended the season tied with Cal Ripken Jr. for 37th place on the all-time career home run list with 431.
Delgado began the 2008 season in an offensive slump with a .204 batting average in April, and hitting just three home runs, but once again his stats improved as the season continued. In May, his batting average increased to .235 with five home runs. On June 15, 2008, Delgado broke Juan Gozalez's record for most runs batted in by a Puerto Rican player. On June 27, Delgado set a new Mets record with 9 RBIs in an interleague game versus the New York Yankees, breaking Dave Kingman's club record of 8. In the final game before the All-Star break Delgado hit his 17th home run of the season. Between June and July his batting average improved, raising to .260 with 19 home runs. Between July 23–31, Delgado hit four home runs. Delgado notched his 2,000th career hit on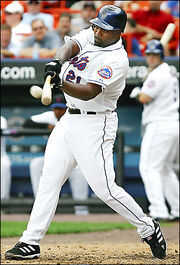 September 21, 2008 against the Atlanta Braves. On October 31 the Mets exercised Delgado's $12 million option. Delgado was ninth in the voting for the 2008 NL MVP Award.
In 2009, Delgado became the first Major League player to hit a home run into the Pepsi Porch at Citi Field. On May 18, 2009, the Mets announced that Delgado had a bone spur and a torn labrum in his hip, and he would have to undergo surgery. The Mets reported on May 19, 2009, that the surgery was successful and Delgado would be out for approximately ten weeks, which would delay Delgado's quest for 500 home runs. However, he did not play for the Mets again in 2009.