Carlos Beltran (born April 24, 1977) played outfield for the Mets from 2005 to 2011.
On August 11, 2005, Beltrán was seriously injured after colliding head-to-head with fellow Mets outfielder Mike Cameron when both were diving to catch a ball in shallow right center field.
Beltrán's 2006 season was a huge upgrade on his first year in New York. Helped by 10 home runs in May, he surpassed his home run total from the previous year before the 2006 season was half over. Beltrán hit grand slams in consecutive games on July 16 and 18, becoming the 22nd player to do so. Another grand slam at the end of July made him only the third Met to hit three in one season. Beltrán continued to produce with a walk-off home run against the St. Louis Cardinals on August 22. It was Beltrán's second walk-off of the season, following a 16th-inning gamewinner against the Phillies. Beltrán's 41 home runs tied the Mets' single season record for homers, matching Todd Hundley's total in 1996. His 127 runs scored gave him sole possession of the Mets' single season franchise mark.
In 2007, Beltrán hit below .230 from May to July. However, he improved in August and September, finishing with a .276 batting average and 112 R.B.I.'s.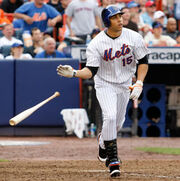 In the final game before the 2008 All-Star game Beltrán connected his 15th home run of the season. On August 29 Beltran had all 5 RBIs for the Mets including a grand slam with 2 outs in the 9th to give the Mets a 5–2 lead. The Mets would win this game 5–4. Beltran hit the last and only Mets home run in the final regular season game at Shea Stadium. The home run was a two run shot that tied the game 2–2 against the Florida Marlins.
Beltrán got his 1,000th R.B.I.'s against the Washington Nationals with a triple in the third inning on April 24, 2009.
Beltrán played his first game of the 2010 season on July 15.
On May 12, 2011, playing against the Colorado Rockies, Beltrán hit three two-run home runs in a 9–5 Mets victory. It was the first three-home run game of his career, and he became only the eighth Mets hitter in history to hit three home runs in a game.