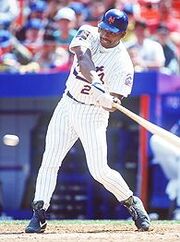 Bobby Bonilla (born February 23, 1963) played infield and outfield for the Mets from 1992 to 1995 and also in 1999.
In 1992, he was signed as a free agent by the Mets to a (then) very lucrative 5 year, $29 million contract. But without his fellow Pirate stars around him, his offensive production dropped. His stay in New York would also be marred by a number of incidents. On another occasion, he called the press box during a game to complain about an error that he was charged with. Finally, in 1995, Bonilla was traded by the Mets to the Baltimore Orioles.
In 1999, the New York Mets reacquired Bonilla from the Los Angeles Dodgers. Again, his level of play did not measure up to expectations and he had numerous clashes with his manager over lack of playing time. His tenure in New York culminated in an infamous incident during Game Six of the 1999 NLCS where the Mets were eliminated by the Braves in an eleven inning game while Bonilla reportedly sat in the clubhouse playing cards with a teammate.

The Mets placed Bonilla on unconditional waivers in 2000. He spent the 2000 season playing for the Atlanta Braves. The Mets agreed to pay out the remainder of Bonilla's contract by deferring the $5.9 million that he was due. The Mets will pay him 25 equal payments of $1,193,248.20 every July 1 from 2011 until 2035, assuming an annual interest rate of 8% during the period 2011–2035.