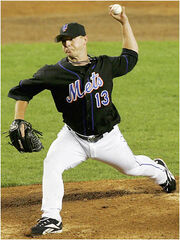 Billy Wagner (born July 25th, 1971) played pitcher for the Mets from 2006 to 2009.
Wagner finished 2006 with 40 saves and a 2.24 ERA and recorded his milestone 300th career save on July 4th, 2006, against the Pittsburgh Pirates. His performance contributed to the Mets' first division title in 18 years. Wagner did not have a great post-season; he recorded 3 saves, lost one game and allowed 6 runs over 5.2 innings for a 10.38 ERA.
Wagner had a good first half in 2007. He converted 17 of 18 save opportunities with a 1.94 ERA. July was his best month, as he recorded 8 saves in 8 chances, and did not allow a run. During this month he produced an ERA of 0.00, only giving up 2 hits. His first half performance earned him a spot on the All-Star team. His second half was not as successful. Overall, he converted 13 of 17 save opportunities and had a 3.90 ERA. He had a 6.23 ERA in August
and was plagued with back spasms during September.
In 2008, Wagner saved 27 games, with a 2.30 ERA.
Wagner pitched one scoreless inning for the Mets in his return on August 20th, 2009 and then another scoreless inning for the Mets on August 24th, 2009.